So, I was given a receiver capable of C-QUAM AM Stereo earlier today ... er, yesterday.
It's a Sony STR-AV790, and the issue was that the display would not light up at all. Problem turned out to be a cold solder joint on the front panel VFD. Heated that one up and it's fine now.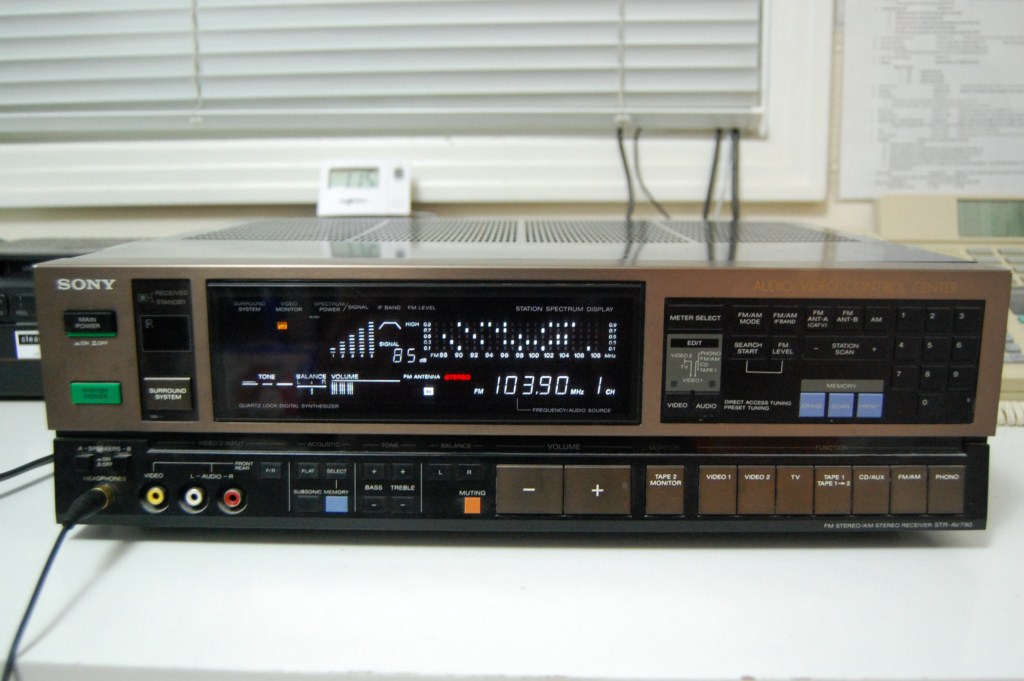 It's certainly rare to see a receiver-amplifier unit designed with radio performance in mind. These days it's usually an afterthought after... HDMI upscaling, optical decoding and all that stuff. The tuning on the FM side was a bit out of whack, for example to pick up 103.9MHz it would have to be tuned to 104.0 to work, and I had to tweak a few inductors to bring it back into line. Anyway, that process was easy because of the sheer amount of FM stations across the Edmonton spectrum to be able to fine tune to, and centering was easy because the stereo decoder only picks up the pilot tone when it's perfectly centered on the freq. Ok, so that's done...
So I'm wondering if there are any AM stereo stations still running in Alberta. I know 880 CHQT was operating in stereo last time I had a chance to mess with a C-QUAM capable radio, but that was also back before they were all-news. That said, when the tuner is set to wideband mode it's definitely higher fidelity than your average modern AM tuner. Same with 580 CKUA. Now I have a stack of 790 CFCW AM Stereo bumper stickers, but I'm pretty sure that's not the case anymore because their signal now is quite narrowband to begin with. 930 CJCA apparently used to be, but I don't know if that's the case anymore either. 660 CFFR was, as well, but with all-news that probably isn't - same with CHQT. 910 CKDQ still has their AM Stereo sign on the highway 1 Strathmore site, and they have rich audio in wideband (when I can null out 930) but the tuner isn't finding it either. What about CKMX 1060?
Mainly, I just need to figure out if I need to also tweak something on the AM side of things as well to get it to work, not surprising considering I had to do that to the FM side, or if it's a case where there are no more AM Stereo stations operating and I'm just trying to tune for nothing. Otherwise the AM tuner has very low internal noise. I was able to pick up 1570 CKMW very well with this receiver... usually most digital tuning radios generate so much electrical noise themselves that I can't get it. The s-meter measures in dB, cool feature, and there are pots inside to calibrate it to a known source if available.