Rush Limbaugh cuts NYC penthouse price to under $13 million
By Julianne Pepitone, staff reporterMay 14, 2010: 4:24 PM ET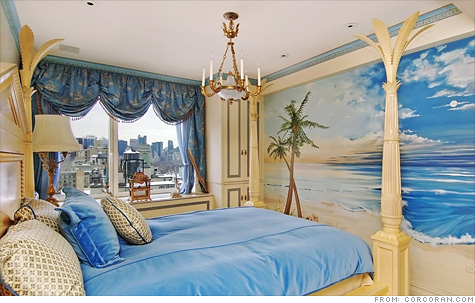 A bedroom inside Rush Limbaugh's Fifth Avenue penthouse.
NEW YORK (CNNMoney.com)
-- Conservative radio host
Rush Limbaugh
is having a tough time saying adios to New York City. But it's not because he'll miss the Big Apple. Rather, he's been forced to cut the asking price for his Fifth Avenue penthouse to $12.95 million.
Limbaugh originally listed his spacious digs in March, asking $13.95 million. He bought the 10-room condo at 1049 Fifth Ave. in 1994 under the name of R H Trust, according to city property documents.
Luxury broker Corcoran Group is listing the property, but the firm chose not to release photos nor to confirm the celebrity resident. Limbaugh was not available for comment.
The pad sprawls across nearly 5,000 square feet and two of its terraces overlook Central Park and its famous reservoir.
The pre-war property features a double living room; a wood-paneled library; four terraces; enormous baths; and a maid's room. But it's not for the faint of heart -- or those afraid of a big renovation. The general appearance can be described as, well, ornate, with trompe l'oeil ceilings and mural-covered walls.
Other lavish features include gold leaf moldings, mahogany floors, upholstered walls and an Italian marble foyer.
So what's all that worth? For the tax rolls, the city values the property at $1.56 million and says property would rent for more than $26,000 per month.
Limbaugh, host of "
The Rush Limbaugh Show
," has been a major voice in the conservative media arena for decades. In 2009, the pundit said he would sell his property after New York governor David Paterson proposed a so-called "millionaire's tax" on residents who make more than $500,000 a year.
-------------
Posted for your viewing pleasure (?) by Mrs. P. ....
T'would seem previous reports of him having his housekeeper mule his mood-altering substances might have been erroneous ... It rather appears the one with the drugs was his decorator ... Yikes ! ... Looks like a whorehouse.
Should any of her gentle readers have similar decor in their own cozy dens, she does apologize and hope she hasn't hurt your feelings too badly ... but at least you can return yours to K-Mart or else just junk it entirely without too much loss ... Judging from the discrepancy in 'assessed' and 'ask' price on this property, Mr. Rush appears to've actually paid real money for his. ( Too bad no-one told him that Sears sold that exact wallpaper in their catalog at bargain-basement prices a couple years ago, and at that same time you could get a more than passable copy of that same chandelier at Home Depot. )
Five thousand square feet of this type of tat ? Yikes again. Just a thought ...Rush Limbaugh isn't just a big fat idiot, he's a big fat idiot with terrible taste. ... Not that there's anything wrong with that, of course ... well, not unless he's expecting someone to pay him the big bucks for all this Lawrence of Arabia hyperventilating after midnight at the Oasis stuff ...
Nice view of the rusty old water tower on the roof outside the boudoir.
Imagine spending a night in with a guy like Rush in a room like this.
Must be sheer magic.