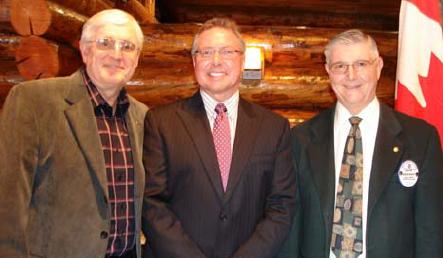 Garry McKenzie stands in the middle
After graduating from SFU - Garry McKenzie started his career in the consumer packaged
goods business for companies like General Foods and Lipton. He spent 13
years as the Regional Director/Manager, Western Canada with Lipton,
where he helped to manage a $143million dollar business. He was responsible
for developing and executing sale and marketing plans that would match
corporate objectives and deliver expected budget goals.
In 1997, Garry left Lipton's and made the jump to the National Hockey
League, where he was an integral part of developing the Marketing and Sales
department for the Flames organization. He negotiated the multi-million dollar
naming rights deal with Pengrowth Management Limited for the Saddledome,
increased advertising and sponsorship revenue, food and beverage
revenue and launched the Calgary Flames Third Jersey Program, which
helped to increase merchandise revenue. Garry also spearheaded the Save
the Flames Campaign for the 2000/2001 season through a very committed
ticket sale drive. Garry left the Flames in 2001, took
some time off, came back to do some consulting and then started with Corus
in September of 2002. Garry was the General
Manager of Corus Radio Calgary, which includes three very respectable
radio stations, Country 105, Classic Rock Q107 and AM770CHQR.
He takes over at Corus Vancouver replacing JJ Johnston